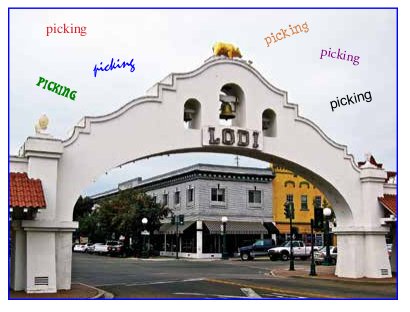 The Lodi Grape Festival grounds is centrally located and proved popular with pickers and their friends who attended the first campout there last year. There is lawn to camp and/or park on, and nearby restaurants for those seeking sustenance cooked by somebody else.
The fall campout is when the votes for CBA Board of Directors are counted and the results announced. The new board will be introduced Saturday night and will answer any questions posed by members.
On Saturday evening there will be a dinner with entertainment by the old-time band the Foothillbillies (who played at Grass Valley) and the long-awaited Instrument Raffle drawing. The CBA board meets Sunday morning.
Instrument raffle tickets will be available until the drawing on Saturday evening."
Also, Charlene Sims and her colleague are planning a Book Exchange…as in put a book in the box and take a book with you…or just TAKE a book with you. So remember—BRING THOSE ALREADY-READ BOOKS ALONG TO LODI.
Be prepared for warm days and crisp-to-cold nights as fall settles in over Lodi.
The fairgrounds have showers for tent campers and water and electric hookups for recreational vehicles. There are no full sewer hook-ups but there is a dump station on the premises.