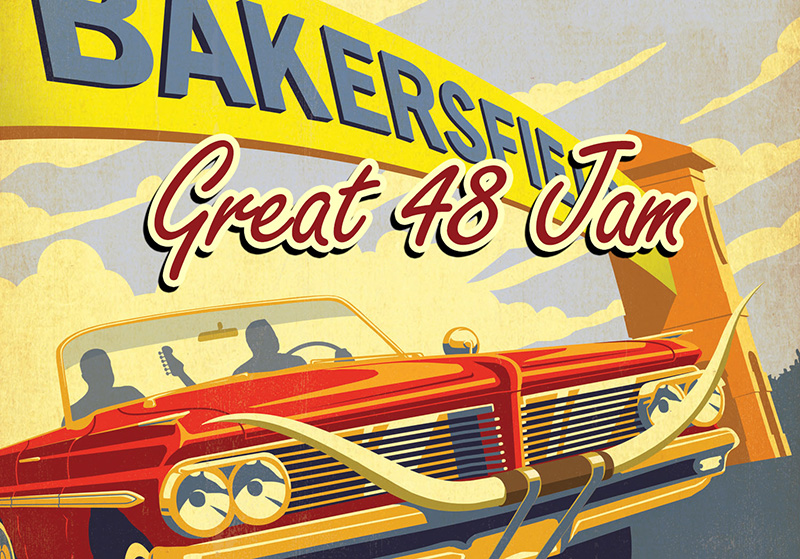 October-November-December and then January 2017! Preparations for the 48-hour jam 2017 are moving along and the 48hour jam is scheduled to take place the second week of January 12-15, 2017.
The Bakersfield Marriott Convention Center is reserving rooms daily and rooms are filling fast. Don't delay, reserve your room today. Before December 7th, 2016 rooms are available at the CBA special rate $93/night and then increase to $164 after the December 7th deadline. Choose your room--- There are jamming room options. Various room floors will be designated as "a no jamming floor", "no jamming after 10:00 pm"" floor, and a "jamming anytime floor". Alert the Marriott staff of your choice as you make reservations.
Reservations can be made by calling the Marriott Convention Center at 661-323-1900 or see the CBA website events link for reservation details.
The planning committee is seeking volunteers to help organize the traditional activities slated for the jam weekend. If you are interested in volunteering, we need folks to help with workshops, kids on stage and the Saturday night band scramble. Please contact Jack Pierce at lylebanjo@gmail.com
Start the 48-hour bluegrass festivities early by attending the traditional Thursday evening opener in the main jamming room enjoying food, drink, camaraderie, and get the opportunity to hear two showcase bluegrass bands. This year's showcase bands will feature Buffalo Gals, an old-time/cowboy band from Grass Valley and Joe's Tenthouse Revival featuring Joe Ash and his new band from Bakersfield and Los Angeles. What a way to start the bluegrass weekend.
And finally, the headliner band selected to entertain folks in the Marriott Grand Ballroom Friday night will be the Edgar Loudermilk Band featuring Jeff Autry. To many bluegrass fans, Edgar Loudermilk is likely best known for his solid bass skills, particularly thanks to his long tenure with bluegrass favorites IIIrd Tyme Out. However, over the past few years, Loudermilk has begun to come into his own as a vocalist and as a solo artist, releasing two popular albums in 2013 – the solo effort My Big Chance Tomorrow, and a duo project with Dave Adkins under the name Adkins & Loudermilk. This year, he's officially struck out on his own with the Edgar Loudermilk Band, featuring Jeff Autry. In July, Pinecastle Records released Loudermilk's newest solo album (featuring the members of his band), Georgia Maple.
This promises to be a memorable weekend for all lovers of bluegrass, so don't delay your reservation. Keep your eyes open and fingers rolling for additional information in the coming months.
Booking
Our block of rooms will be held until December 7, 2016. So reserve early. for hotel bookings go to
On-Line Booking

If you book by phone use:
Group Name: California Bluegrass 48 Hour Jam Group Code: CBA Direct: (661) 323-1900