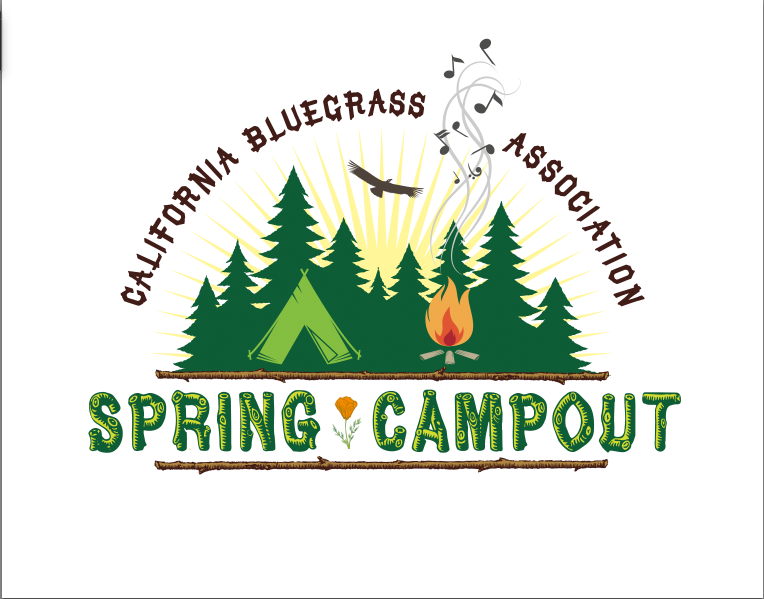 Spring Camp Out 2018!!! Are You Ready!?!?!
GET READY, GET SET, GO
16 days - CONTACT DEB LIVERMORE TO VOLUNTEER!!!!!
15 days - make lists: camp supplies, groceries, instruments, clothes
14 days - check camping gear, buy more if needed
13 days - contact friends to make an arrival plan
12 days - find your dessert recipe for Saturday night's dinner
11 days - check strings and batteries - buy more - you can never have too many.....
10 days - update song list and laminate!
9 days - practice new tunes - must have at least 2 new ones!
8 days - chat with friends to put together tunes for Friday night open mic - so much fun
7 days - chat with friends to compare how excited you are for this year's Spring Camp Out!!!!
6 days - find offerings for the Silent Auction - Arts, Crafts, Bluegrass Memorabilia, Garden delicacies
5 days - clean out Ice Chest from last event.....bleach may help....
4 days - check the weather - update lists accordingly
3 days - finish grocery list - go to the grocery store
2 days - text friends to check on arrival plans, do laundry, pack clothes, food, instruments, and get the camping gear all together at the door
1 day - get a good nights sleep, leave as early as possible and get ready to PICK!!!!!!!
SEE YOU SOON!!!!!
In case you live in the boonies and don't know what I'm talking about - Spring Camp Out is a week Full of Music, Friends and Frivolity!
We get started in Turlock, CA on Monday, April 16, 2018 and play bluegrass until Sunday afternoon, April 22, 2018...... I know a lot of people still have to work, but I hope those of you who can come out early in the week, will!!!! And the Rest of You get there AS SOON AS POSSIBLE!!!!
The event is free for people who want to come for the day, to hear the Bluegrass music or visit with friends. There is plenty of camping for RVs, tents, and every description in between. There are full hook-ups for RVs and lots of grass and trees for shade. Full Hook Up sites are $30 per night and all other camping situations are $10 per night.
Stanislaus County Fairgrounds is centrally located between Sacramento, Fresno, and the Bay Area.....and so only 1 1/2 - 2 hours drive for all of Northern California. Not bad at all in my book.
We will be having Bruce Champion back for an Open Mic on Friday night. I would love to see my friends get together and record their favorite tunes and then have Bruce put their songs on CDs for you. There is no charge at this time but donations are encouraged. If you have any ideas or suggestions for this new offering, please let me know.
Saturday morning is our CBA Board Meeting. Everyone is invited to attend this meeting. It is so interesting to see the process and the challenge it can be for our Board Members to agree and move forward on items. It is also when You can present questions and comments. Please feel free to attend!
We will have our Saturday night dinner, at the cost of $10, as usual. We will be doing the Silent Auction again and I would like to invite you to contribute items to this event. We can use Art, Crafts, Culinary Delights, and anything related to Bluegrass that could bring in some money for our Kids! All proceeds go to the CBA Youth Programs, which are many. I would also like to do the Dessert Pot Luck again! It was great to see what people brought last time and so please look up those recipes and bring your favorite dessert!!!! Or go get something from the store - We don't care!!! Dessert is Dessert!!!!!
The entertainment this year will be a new configuration of young men - "Crying Uncle". Brothers, Miles and Teo Quale, founded the band and have recruited John Gooding and Andrew Osborn to complete the sound. I am so very excited to hear their music!!! More information about this new band can be found on Facebook - cryinguncle and on Youtube
Now I need to bug you again....... As always, I need volunteers to make this event happen. We, the CBA, are run by volunteers. People who give of their time, energy, and even monetarily at times, to provide our Bluegrass Family with music, friendship and a safe place to party and play music.....please consider giving up four hours or more to help with this event. There is a benefit to volunteering as well - you will receive one night camping for every four hours you spend helping us put this event on!!!!! I need help at the front gate all week long and setting up, serving, and cleaning up dinner on Saturday night.
If anyone would like to hold a workshop, please let me know. I had an inquires concerning banjo and dobro workshops and thought maybe it would be cool to encourage workshops and advertise them as well. Please let me know.
If you have any questions or would like more info or would like to volunteer your time, I can be contacted at Deblivermore@gmail.com or 916-601-7233
I am Really looking forward to seeing you all in Turlock for the CBA's Spring Camp Out!!!!!
Let's Pick!