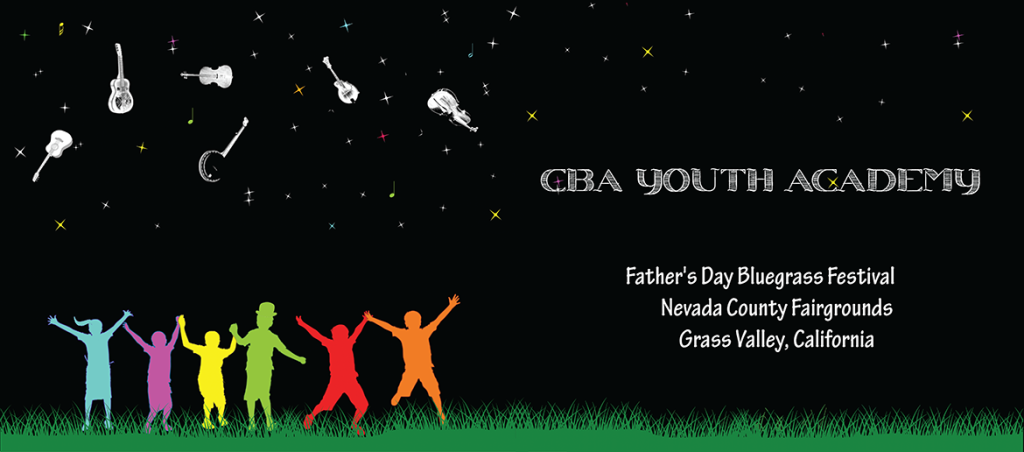 The California Bluegrass Association's 3rd Annual CBA Youth Academy is now open. The sign-up link is live, and we expect 2015 to sell out soon. The Youth Academy is a 4-day instructional day camp for youth, ages 8-16 put on by Bluegrass Camps for Kids. See their website for answers to questions about the program, curriculum and activities.
We have raised enrollment to 49 students this year, but sold out both previous Academies and encourage you to register early to ensure a space. The Academy will be held Wednesday through Saturday (June 15-18, 2016) starting the day before and continuing during the 40th Annual CBA Father's Day Festival on the Nevada County Fairgrounds in Grass Valley, CA. The Academy will conclude with a performance at 3PM Saturday on the Pioneer Stage.
The CBA is very proud of this new event for our youth. The Kids on Bluegrass (performance) activity will continue during the festival and the KidFest (recreational) activities will be held Thursday through Saturday close to the main stage. KOB and KidFest are free to children of attendees.
Any questions about any of our Youth Program activities can be directed to me at darbycba@gmail.com or 510-735-6364.
Sincerely, Darby Brandli, President and Liaison to the Youth Program California Bluegrass Association Tuition and Scholarships
---
The tuition for this year's camp will remain at $300 per child and a guardian must purchase a festival ticket and be present on the Fairgrounds during the event. Tuition includes Wednesday night pre-festival tent camping on the Fairgrounds. $100 scholarships are available on a first come first served basis while funds last.
Our scholarship fund is funded by our caring members and supporters and all donations are tax deductible because of our non-profit status. We have almost $1000 in our scholarship fund now and hope that you will consider donating so that all students who need financial help have it available. Donations can be made online here or a check can be made out to "CBA Youth Program" and mailed to Darby Brandli, 2106 9th Avenue, Oakland CA 94606. We were able to offer financial assistance to 100% of those who requested in 2013 and 2014 because of the generosity of our donors, and we hope we will be able to meet that goal again for 2015.
Registration:
Note: Registration for the Youth Academy will begin January 1, 2015. In order to register a student, the guardian(s) must purchase a 40th Annual Father's Day Festival 4 day ticket. We require that a guardian(s) be present on the Nevada County Fairgrounds during the Festival/Academy. Guardians will be responsible for dropping the enrollee off for camp, for providing a bag lunch (we will provide all beverages and snacks) and for picking the enrollee up after camp. The camper/guardians will camp and attend the Festival during the four day camp period.
The Academy will begin the day before the festival on Wednesday, June 15, 2016 and will end after an afternoon performance on Saturday, June 19, 2016. The registration fee of $300 for the four day camp must be paid to the California Bluegrass Association Youth Program and verification of a festival ticket will be completed and then the registration process will be continued with a link to the Bluegrass Camps for Kids program, All health release forms, requests for and schedules for instrument Blocks and Camp materials will be handled by the Bluegrass Camps for Kids who will officially administer the Academy (www.bluegrasscampsforkids.com).
Registration may be done on-line at www.cbaontheweb.org or sent to Darby Brandli, 2106 9th Avenue, Oakland, CA 94606. Upon completion and verification of registration, the guardian will be contacted and instructed on next steps. Any questions about registration process or the Youth Academy may be directed to Darby Brandli at darbycba@gmail.com or telephone 510 735-6364.