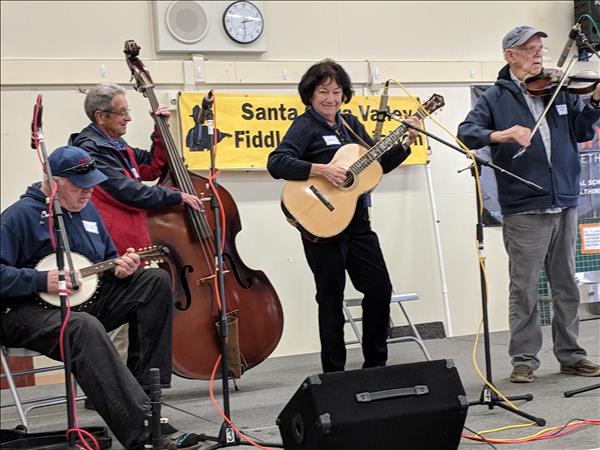 Sunday March 3rd 2019- SCVFA Monthly Jam
Santa Clara Valley Fiddlers Association
is a non-profit organization dedicated to the preservation of traditional types of American music such as old-time, bluegrass and gospel music, as played on the fiddle and other compatible acoustic instruments.
What:
Join us for the First Sunday Monthly Jam -
March 3rd - 1:00 - 5:00
Please do not enter before 12:30 pm and return all chairs into the cafeteria by 5:15
Where:
Hoover Middle School
1450 Naglee Ave
San Jose
Details at the Santa Clara Valley Fiddlers Association's website
Admission:
Youths 17 and under are FREE
Adults: $6 members $8 non-members. First time attendance - Free
Tune Builder Circle - From 2 to 3 pm Learn a new tune or two by ear. Taught by an experienced SCVFA member
Slow Jam
The ever-popular Slow Jam starts at 1:30 PM. It is for beginning to advanced beginners who can play chords at a steady rhythm pace by vamping or chopping. The intent of the Slow Jam is to keep the tempo down, between 60 and 90 beats per minute (bpm). Several notebooks with the sheet music will be available. Bring a music stand if you have one. Check out the SCVFA website for the current Slow Jam tune list.
Open Mic
Come prepared to share your talent on stage.
"Afters" Join the group for dinner after the jam at a local restaurant. Relax and get to know one another. This month, we will meet at Sam's Bar-B-Que
For more details: www.Fiddlers.org
Donations to SCVFA are greatly appreciated and will assist in keeping traditional music alive by passing it on to the next generation. Many local corporations offer matched donations for non-profits. Check with your employer... they may offer this benefit. You can easily add SCVFA as a 501(c)(3) organization. Our EIN is 51-0196154
Donate as you are able and traditional music will reap the benefits.