January 8 - 10: CALIFORNIA'S 48-HOUR JAM-A-THON FOR YOUTH BLUEGRASS EDUCATION!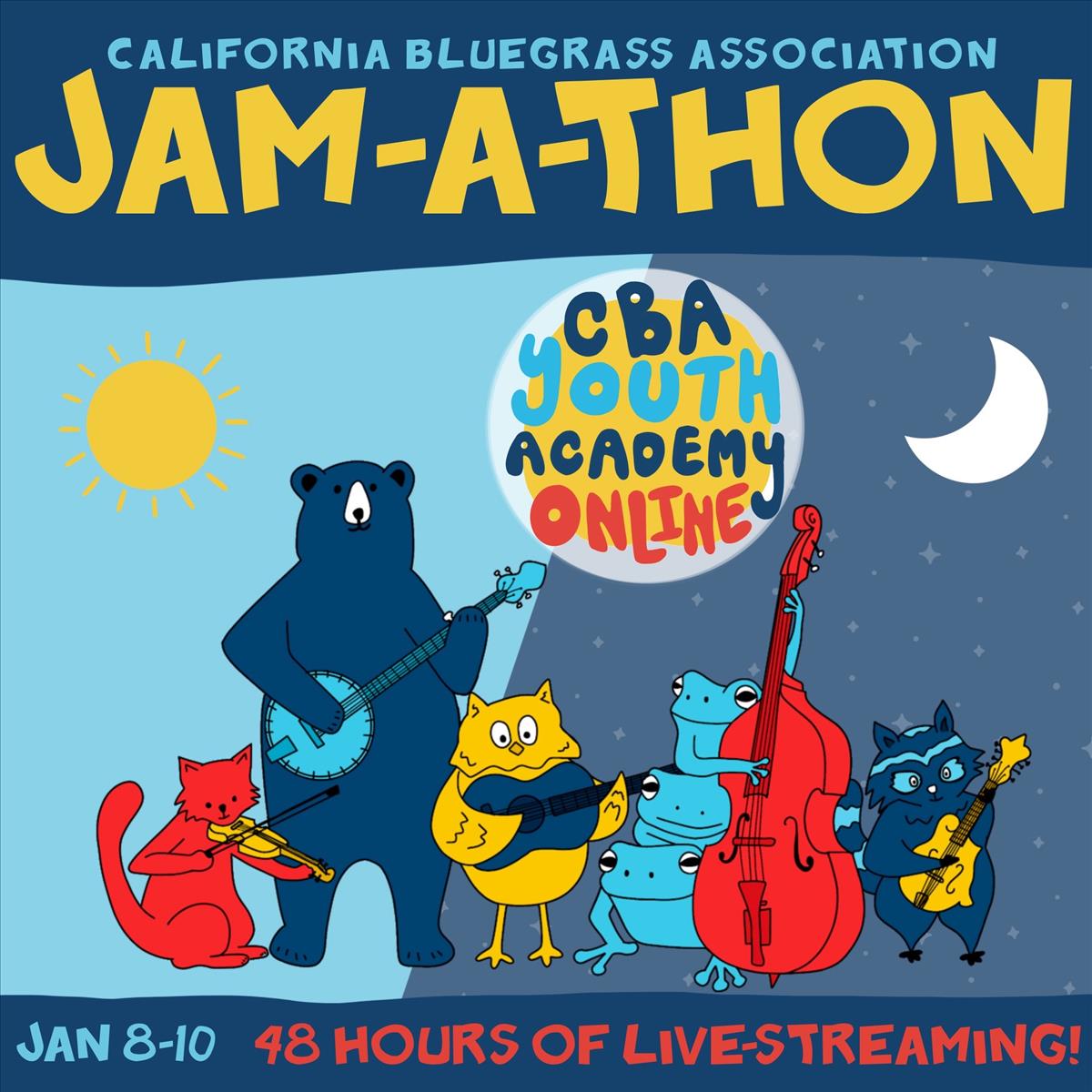 The first-ever 48-HOUR LIVESTREAM Jam-a-Thon festival to raise money for kids' music education is coming! Watch it all unfold at @californiabluegrass and "like" the page while you're at it! Starts THIS Friday Jan. 8 at 5pmPST!
The California Bluegrass Association invites you to join Abigail Washburn & Bela Fleck, Laurie Lewis & Kathy Kallick, and more in the first-ever Free Bluegrass 48-Hour Livestream Jam-a-Thon! This historic worldwide Bluegrass livestream kicks off Friday, Jan. 8 at 5:00 pm PST and doesn't stop until 5:00 pm Sunday, January 10.
Also in the lineup: IBMA award winners Danny Paisley, Darin & Brooke Aldridge, Alan Bibey, Missy Raines, Deanie Richardson, Tina Adair, Becky Buller, Sierra Hull, Front Country, Joe Walsh & Grant Gordy, and members of Sister Sadie, Della Mae, Wood & Wire, and more! The Sam Bush Band's Wes Corbett offers a star-studded banjo workshop, Del McCoury Band's Jason Carter and friends talk and play fiddle, and Missy Raines leads a bass hang with Mike Bub, Marshall Wilborn, and Vickie Vaughn.
Look for streaming links and the schedule at
https://jam-a-thon.com/
The entire stream is FREE. Your donations are gratefully accepted on behalf of the California Bluegrass Association's Youth Academy, which builds the future of Bluegrass by providing top-notch musical education for a diverse pre-teen and teen population.
A portion of the funds raised will support the development of a new interactive Bluegrass website to be launched this Spring; it will be full of musical activities for young people, who've been deprived of vital infrastructure such as music festivals, schools, and jam spaces. Successful musicians agree: exposure to learning opportunities and community is a huge part of what makes someone a lifelong lover of music. It's what will carry our music through generations.
We'll be binge-watching. Join us!
FIND OUR SOCIAL CHANNELS HERE:
Facebook:
https://www.facebook.com/californiabluegrass
(tag @californiabluegrass)
YouTube Channel:
https://www.youtube.com/channel/UCvLt734exmHqwYhb6T7LgEw/featured
Instagram: @californiabluegrass
Hashtag: #jamathon #jamforthekids